School pupils' cycle ban faces Olympian criticism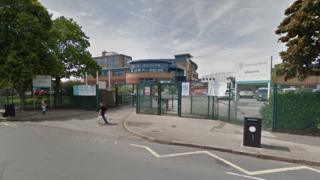 Pupils have been banned from cycling to and from a Nottingham school until they have completed safety training.
Ellis Guilford School has written to parents saying "too many students are not cycling responsibly and causing danger to others".
Even after passing a test, cyclists will be held back while others leave.
The decision has been criticised by Cycling UK and former Olympic cycling champion Chris Boardman who said it "requires things beyond the law".
In a letter to parents, head teacher Dr Sally Coulton said twice the number of students were bringing bikes to school this term and they have seen a "growing number of students cycling to and from school in an extremely dangerous way".
Dr Coulton added anyone wishing to cycle to school first has to complete a safety course and be issued with a permit.
Once they have done this, they will have to wait until their fellow pupils have left school on foot before being able to collect their bikes.
A total ban on all bikes is in place until next week, which is the earliest pupils can obtain the permit.
The school has conceded it cannot stop children cycling on the road outside but they will not be able to bring bikes on site.
The move has prompted some critical comment on social media.
Mr Boardman, who won three stages of the Tour de France and Olympic gold at Barcelona 1992, questioned the school's thinking via Twitter.
Dame Sarah Storey, Britain's most successful female Paralympian, said she was "baffled" by the move.
Many questioned the legal right of the school to take these measures.
While there was some support on the school's Facebook page many felt it was the wrong approach, including Lisa Bettridge, who said: "What if cycling is the only way of that child getting to school? What then? Majority again suffering for the minority of idiots that ride with little thought or respect for others!"
Duncan Dollimore, Cycling UK's head of campaigns and advocacy, said it would have been sensible to talk to the pupils, and their parents, instead of introducing a cycle ban with immediate effect.
He said: "Consultation and discussion, as some parents have called for, might have given Ellis Guilford a fighting chance of maintaining the recent increase in numbers cycling to school.
"Imposing bans, introducing permit requirements, and making the cycling children wait behind all their mates before they can leave is not going to encourage them to carry on riding to and from school."