Mass 'dab' for boy who died in his sleep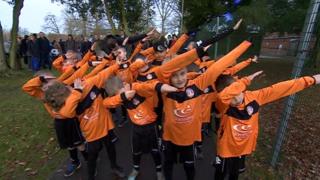 Hundreds of people have taken part in a two-minute "dab" in honour of a six-year-old boy who died before Christmas.
Daniel Harris, who loved the popular dance move, died unexpectedly in his sleep on 23 December.
Friends and family gathered in his home village of Fernwood, in Newark, Nottinghamshire, to remember him and show their support.
Heidi Browning, a friend who organised the event, described him as a very "smiley little boy".
"I first heard the news about Daniel on Christmas Day and it was devastating," said Ms Browning.
"But I think Daniel will be looking down on us and I'm sure he's up there dabbing with us."
---
What is dabbing?
Dabbing involves the dancer dropping their head and resting it on one arm while simultaneously raising the other.
It can be traced to the Atlanta hip-hop scene, and spread during 2015 as NFL players celebrated touchdowns with the move.
---
Helen Auld, another family friend, set a fundraising page set up to help the family and about £1,850 has been raised so far.
She said: "Daniel Harris was tragically and unexpectedly taken from us on the 23rd December 2017.
"His devastated family, and specifically his parents Phil and Kat have backed a campaign in Daniel's memory... #dab4Daniel."
Fans of ice hockey club Nottingham Panthers dabbed for the youngster before a match at the Nottingham Arena on Saturday evening.