'Dragged' man robbed at knifepoint in Nottingham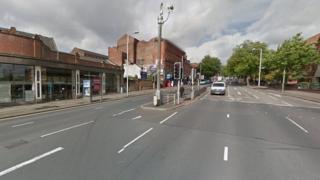 A man was held at knifepoint before being dragged to a cash machine and robbed in Nottingham, police have said.
The victim was walking along North Sherwood Street when the offender threatened him with a knife at about 17:40GMT on Thursday.
Nottinghamshire Police said the suspect then dragged him to a cash machine on Mansfield Road, which was out of order.
The victim was robbed of his phone, wallet and two bank cards, which were used to withdraw £300.
The suspect has been described as an Asian male, about 25-years-old, about 5ft 10ins tall and of medium build.
He was wearing a black and white bandana and a cap.
Officers have appealed for witnesses and anyone with information to contact them.