Greetings card slave worker kept in Nottingham loft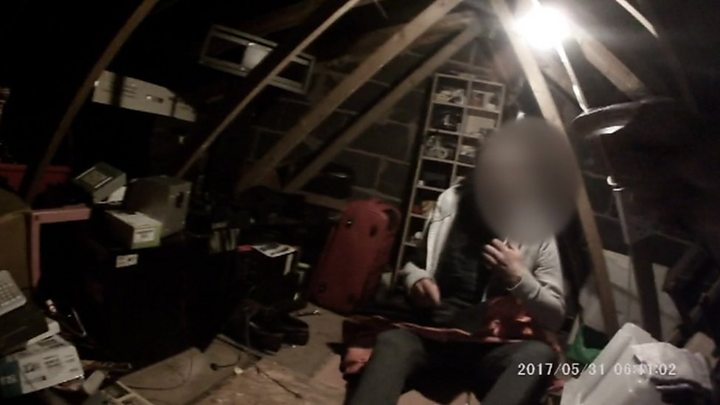 A man who locked two Polish immigrants in his loft, using violence against them and controlling their ID documents, had been jailed.
One of the men was forced to work 20 hours a day making greetings cards.
Edward Zielinski, 42, of Birkin Avenue, Hyson Green, Nottingham, admitted two counts of modern slavery and was jailed for three years and four months.
Judge Gregory Dickinson QC told Zielinski he had treated the victims in a "thoroughly degrading way".
Sentencing him at Nottingham Crown Court, he added: "You made them live in squalor and took away their incomes.
"You took away their dignity as human beings, you fully exploited their vulnerability, you were able to brow beat and control them through threats and intimidation."
The offences took place between 31 May 2013 and 1 June 2017.
Zielinski made the men work for little or no money.
He would also force his victims to urinate in plastic bottles at night rather than wake him and his wife.
The first victim later started working for an employment agency, but despite earning about £300 a week he was only paid with cigarettes, alcohol, occasional pieces of clothing and £10 cash.
The victim, who wanted to remain anonymous, said he ran away twice but was found by Zielinski and brought back to the loft.
"I slept on the wooden floor, there was no mattress, nothing. I had a blanket to cover myself and I wore a jacket," he added.
"He was unpredictable and if I asked him for anything I was scared he would hit me. He didn't hurt me because I had to go to work and look normal.
"I have seen a friend being assaulted by him a few times."
Both victims are being supported by the Salvation Army.
Det Sgt Mike Ebbins, who led the investigation, said the two men were seen as "perfect victims" because they "couldn't speak a word of English".
"The first victim was made to work up to 20 hours a day from 8am to 4am with only limited break, earning only £10 a week."