Warning over stag selfies with Wollaton Park deer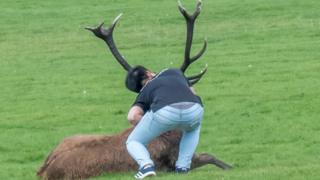 Visitors to a park have been warned they are putting themselves in danger by posing for selfies with deer.
The herd of 80 red deer and 120 fallow deer roam freely in Wollaton Park, Nottingham.
Wildlife photographer Ted Shillitto said he saw people "getting close to what are potentially very dangerous animals".
He said one man posed behind a stag's antlers, while a woman attempted to put her child on a stag's back.
More stories from around the East Midlands
A spokesman for Wollaton Park said it was mating season and "any person or animal invading their space at any time may be attacked as the stags will defend their group".
"They are very large and could inflict a lot of damage."
Mr Shillitto said the deer are "dangerous animals and not pets".
"It was ridiculous how close and how many were coming along. When somebody has done it, then others think that's great, we'll do it.
"One of them actually got a hold of the stag's neck as he was down on the floor and was posing between his antlers."
'Full of adrenalin'
The photographer said one woman at the park "picked her child up and it looked like she was going to put it on the stag's back".
Charles Smith-Jones, of the British Deer Society, said deer parks recommend people stay at least a distance of 165ft (50m) away from the animals.
"In a park, the deer are used to people and they seem tame and people are fooled into thinking they are tame," he added.
"But the red deer rut is going on and the males are full of adrenalin and testosterone and are competing for breeding rights."
Last month, a woman was gored in a deer park in Richmond, London, after taking a video of deer.
Londoner Yuan Li, who suffered thigh injuries, said she thought she was going to die.