Foster care abuse victims urged to speak out after ruling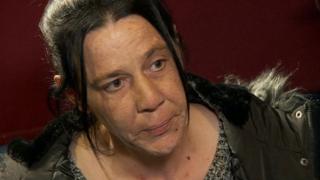 A woman who won a "landmark" legal battle against a council after being abused by foster parents as a child has urged more victims to speak out.
Natasha Armes, 40, from Nottingham, had been in foster care from the age of seven to 18, in the 1980s.
On Wednesday, the Supreme Court ruled Nottinghamshire County Council "vicariously liable" for the abuse committed by her foster parents.
Ms Armes said it was "not too late" for other victims to come forward.
Live updates from the East Midlands
Ms Armes said she was "shocked" and "surprised" the verdict went her way after seeking justice for about eight years.
"It's been a constant battle, I'm glad it's over," she said.
"I don't see [the ruling] should have such an impact because they should be doing what they should be doing anyway, but they're not."
'Start living'
Ms Armes had previously lost her claim against the authority, at the High Court and Court of Appeal.
But, following the justices' ruling in her favour, she said she could now "start living".
The court heard Ms Armes was physically and emotionally abused by Glenys Allison in her first placement, and sexually abused by Mark Blakely in the second.
And, in the latest hearing, the judges ruled the council could be held liable in respect of the abuse by carers, despite being found not to be negligent in connection with the selection or supervision of them.
Colin Pettigrew, of the county council, said it was a "huge regret" Ms Armes had not been safe in care 30 years ago and the findings would have "far-reaching implications" in the UK.
Ms Armes' solicitor Billhar Uppal, said: "If Natasha had been in a children's home there would have been no question the local authority would have been liable for members of staff.
"That position should never have been different in terms of a foster child."
There will be financial implications for authorities following the ruling and he hopes more people will come forward who have suffered abuse, he added.