Four dead in four weeks at Nottingham prison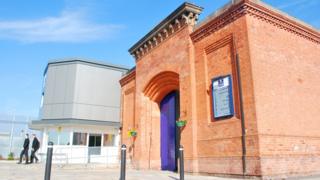 Four inmates have died at Nottingham Prison in the past four weeks, the BBC has learned.
A source, who wanted to remain anonymous, said three deaths were suicide and one was drugs-related, but the causes have not been confirmed.
In July, an Independent Monitoring Boards (IMB) report said the prison had a problem with violence and drugs.
A Prison Service spokeswoman said every death in custody was a tragedy and it was putting more funds into safety.
Live updates from the East Midlands
In July, the IMB said Nottingham Prison's problem with violence had been made worse by a lack of staff.
Its report, which covered 12 months up to February, found five men had died in custody, two as a result of self-harm.
Calendar years 2013-16 each saw three deaths, while 2007 to 2009 saw none. The previous highest numbers of deaths since 2000 was five in 2004.
Drugs are also an issue and a source of bullying, debt, and health problems, investigators found.
'Broken down'
Ian Carson, from the Prison Officers Association, said the four deaths were not just related to staffing levels.
He said the relationship between prisoners and "disempowered" staff has "broken down" and they can no longer influence lives positively.
"It's a job you can't just walk off the streets and do and deal with prisoners with complex needs," he said.
A prison service spokeswoman said the government was redoubling efforts to make prisons safe and had started a "suicide and self-harm reduction project".
Investigations into the recent deaths by the Prisons and Probation Ombudsman are ongoing, she added.
HMP Nottingham has also put in a number of measures to increase staffing levels including opening a training facility for new staff, the BBC has learned.