Three Robin Hood art trail sculptures revealed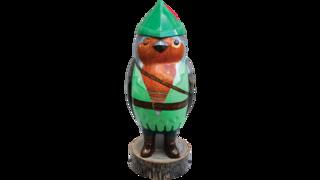 Three sculptures that will be part of an art trail celebrating Nottinghamshire legend Robin Hood have been unveiled.
The Hoodwinked trail will be a modern-day take on the traditional tales of Robin Hood and will run next summer.
The sculptures will all be robins, each with a different design.
Robin Hood wearing his traditional costume, a design celebrating India and Pakistan's independence and a blank sculpture have been revealed.
The traditional Robin Hood costume sculpture was painted by Manchester artist Jodie Silverman, who has created designs for sculpture trails up and down the country.
The second to be revealed is called 'Independence: A celebration of India and Pakistan,' designed and painted by Nottingham artist Hannah Money.
The third sculpture is blank - ready to be transformed with a design commissioned by a business sponsor.
The trail will raise awareness and funds for Nottinghamshire Hospice, with an auction of the sculptures due to be held in October 2018.
More information can be found on the Hoodwinked website.