'Show and tell' Nottingham fossil identified as new species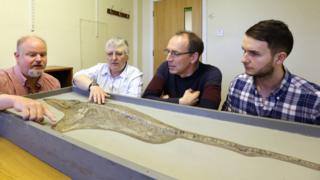 A fossil once used in primary school lessons has been identified as a new species by an expert.
The protoichthyosaurus, a shark-like swimming reptile, has been kept in a University of Nottingham storeroom since the 1970s.
Now, as part of a wider study of the ichthyosaur group, researchers say it is the first known fossil of this particular species in the world.
The reptile lived about 200 million years ago in the early Jurassic period.
Dr David Large, a geologist and head of the department of chemical and environmental engineering at the university, said he recently rediscovered the fossil, which he had used for teaching in primary schools, sitting on a storeroom shelf.
Dr Large retrieved it and palaeontologists and scientists have now said it is a "radically different" new species.
It has been named Protoichthyosaurus Applebyi, in honour of Robert Appleby, who studied fossils in the 1970s and first proposed the protoichthyosaurus group.
Palaeontologist Dean Lomax, of the University of Manchester, is one of those studying the new find.
"This small-to-medium-sized species would have probably been less than 2m in length, swimming in large numbers in the seas around Britain when the dinosaurs roamed the land," he said.
Mr Lomax found its forefins had a different number of bones and an unusual structure.
"By comparing it to other contemporary species, living about 200 million years ago, we can see its fins are radically different.
"It was using them for some other reason whether this was something to do with mating or with feeding, we are not quite sure."
The fossil is on display as part of the Dinosaurs of China exhibition in Nottingham.