Flight cancellation leaves GB power lifting team struggling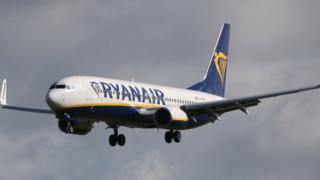 A British sports team's plans for an international event were thrown into chaos after Ryanair cancelled flights with less than 24 hours notice.
The powerlifting team were to fly from East Midlands to Spain for the European Masters Bench Press Championships.
The team had to split up and fly from other airports to make it in time for start of the competition.
Ryanair said Tuesday's problem was caused by industrial action in France and apologised for the disruption.
Competitor Sarah Bouskill said: "I was absolutely gutted. This is my first international competition and I was so excited.
"We had heard about all the other problems, but with so little time to go I thought we had got away with it.
"It felt like the world had dropped away."
Ms Bouskill, a primary school teacher from Horncastle, Lincolnshire, said her head coach received a text message early on Monday and then had to tell the rest of the team.
Ten people, representing about a quarter of the entire team, are affected.
Wendy Kirkland, from Arnold, Nottingham, said: "I am competing on Wednesday so this is the last thing I need.
"I got the message at 2pm and I was supposed to be flying at 7am the next day.
"They have acted without regard for people. This is not a holiday,
"I am representing my country and the thing is some of the team were flying out on Monarch and we have ended up on the same flight."
In a statement, Ryanair said the cancellation was not part of the flights affected by the problem involving pilot holiday rosters.
"Due to a French air traffic control strike, we regret we have been forced to cancel a number of flights today (10 Oct), including this flight from East Midlands to Murcia.
"We apologise to all affected customers, who have been contacted by email and text message and advised of their options: a full refund, rebooking on to the next available flight or transferring to an alternative flight."