'Support' for woman jogger in Nottingham sex attack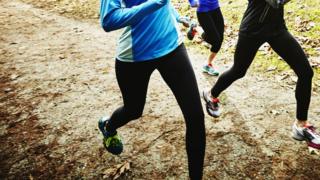 A woman who was indecently assaulted while running says she has been overwhelmed by people saying they have had similar experiences.
The 48-year-old victim was grabbed by a man while jogging in Sherwood Rise, Nottingham.
Nottinghamshire Police are treating the incident as a misogynistic hate crime.
The suspect is Asian, about 30, 6ft (1.8m) tall, with a bald patch. He was carrying a large backpack containing tennis racquets.
'Yelled at him'
The woman was running along Claremont Road, Sherwood, at about 18:30 BST on Tuesday when the man grabbed her.
She said: "I started to make quite a lot of noise and really yelled at him and then carried on running.
"One of the most shocking things was how unfazed he was."
She posted what had happened on Facebook and received many messages of support from women of all ages.
"I think it is really important women speak out when this happens," she said.
More common
The victim said being shouted and leered at was common, but this was the first time she had been physically assaulted.
Sharon Cairney, from Notts Women's Runners, said such incidents were becoming more common.
"We certainly have had half a dozen we know as a club this calendar year," she said. "It is absolutely outrageous."
In January, an England Athletics survey found that one in three women had been harassed while running.