Parents of Nottingham stillborn child call for law change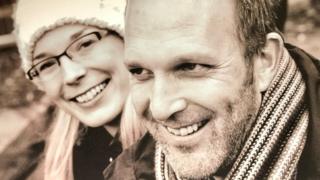 A mother whose baby was delivered nine hours after dying has called for a law change that would allow coroners to investigate similar deaths.
Sarah Hawkins and husband Jack said the death of daughter Harriet at Nottingham City Hospital in April 2016 was "completely avoidable".
They said if inquests had been held into previous stillborn deaths, she may have survived.
Nottingham University Hospitals Trust has apologised for its "shortcomings".
The current legislation - under the Coroner and Justice Act 2009 - means in England and Wales a stillborn child or a foetus is not classed as a "deceased person".
Therefore, if a baby dies after 24 weeks of pregnancy, an inquest does not need to be held.
The couple believe had an inquest been held into other stillborn births at the trust, problems would have been identified and prompted changes that would have prevented Harriet's death.
'Gross errors'
Mr and Mrs Hawkins, who both work for the trust as a hospital consultant and senior physiotherapist respectively, planned for Harriet to be delivered at the Queen's Medical Centre (QMC).
Lawyers representing the couple said Harriet was the couple's first baby and there were no problems in the pregnancy.
They said between 13 and 17 April the couple made 10 calls to the trust and were discharged home after two visits to the QMC.
These "touch points" were "littered with gross errors and mismanagement, which led to Harriet's death".
These include:
Being eventually admitted to Nottingham City Hospital as the QMC had closed its doors to new admissions due to understaffing
Staff struggling to find a foetal heartbeat - and at one point finding Mrs Hawkins', mistaking it for Harriet's
Failing to diagnose active labour
Failing to review Mrs Hawkins before she was discharged after being given a "very significant" amount of opiates
Failing to perform a cervical exam before discharge, which lawyers say would "almost certainly" have resulted in her staying in hospital
Failing to identify an obstetric emergency when Mrs Hawkins' "waters were hanging out"
Leaving her in active labour for more than nine hours despite Harriet being dead
Harriet was pronounced dead after nearly 41 weeks of pregnancy on 17 April 2016. When she was delivered, she weighed 6lb 12oz (3kg).
The couple say they were told by the trust Harriet's death was caused by an "infection".
After challenging that conclusion, the pair pushed for an external review which was agreed to and began last August.
Following a meeting with the external review team, Harriet's death was "upgraded" to a "serious untoward incident" (SUI).
When that SUI report was published, the conclusions "smacked of a cover-up" to the couple, who informed the Clinical Commissioning Group (CCG) of their concerns.
The CCG deemed the first SUI to be "unfit" and ordered a second SUI, the results of which are expected soon.
'Unimaginable distress'
Janet Baker of Switalskis Solicitors, who is representing the couple, said she had never seen "such a horrendous string of errors" in her 20 years practising in clinical negligence.
The trust's chief executive Peter Homa has "apologised unreservedly".
"I reiterate my condolences to Jack and Sarah and acknowledge the unimaginable distress and sadness caused by Harriet's death," he said.
"I apologise unreservedly that their pain has been worsened knowing that, had the shortcomings in care late in Sarah's pregnancy not been experienced, Harriet might be alive today.
"Whilst we fully recognise there were shortcomings, we do not accept that NUH has conducted a cover-up.
"When families are involved in an incident, we seek to communicate openly and ensure they are kept updated of our investigations."