A46 double death prompts coroner to ask for road changes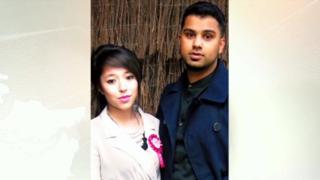 The deaths of a Leicester couple on a major road has prompted a coroner to recommend changes to the highway.
Shabhaz Bhim, 23, and his fiancée Shana Sutaria, 24, died on the A46 in Nottinghamshire on 3 December 2015.
The dual carriageway had flooded due to heavy rain and a van lost control and hit the couple.
Assistant coroner for Nottinghamshire, Andrew McNamara, wrote to Highways England to highlight a blocked drain and gaps in safety barriers.
Updates on this story and more from the East Midlands
The inquest found the couple's car had come off the road at the same point and as they tried to get to safety, they were hit by the van.
In the letter, Mr McNamara said: "The scene of the collision is in a natural bowl and that, unless effectively drained, it is a point at which standing water will accumulate during and/or after heavy rainfall.
"The gap in the vehicle restraint barrier... is a hazard to traffic in that it permits vehicles to pass unimpeded from the carriageway."
He added: "In my opinion action should be taken to prevent future deaths and I believe you or your organisation has the power to take such action."
While the coroner cannot compel Highways England to act, it is obliged to explain any decision not to take action.
Highways England said it would look at the recommendations and that improvements had already taken place or were planned.