Man's wife and baby girl die within 15 hours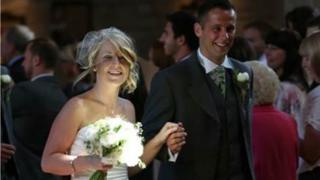 A new father has spoken about the death of his wife and their newborn baby girl within hours of each other.
Heidi Renton, from Newark, was taken ill while 39 weeks pregnant and died in August.
Her daughter Isabella was born by emergency Caesarean section but died 15 hours later, having been starved of oxygen.
Craig Renton said he broke down at the time and was still trying to come to terms with what happened.
He has described the events leading up to his wife's death on 4 August as he arrived home from work at RAF Waddington in Lincolnshire.
"She said she felt ill and her chest hurt," Mr Renton said. "We called the GP and because she was pregnant they recommended we drive to hospital.
"We thought it might be the baby on the way. The due date was 12 August, so it was possible. We were both so nervous and excited. It was our first, much-wanted baby."
On the way to King's Mill Hospital in Nottinghamshire, Mrs Renton fainted and then had a seizure.
"She started fitting and her lips turned blue, as though she was being starved of oxygen."
Mrs Renton was rushed to hospital but died a short time later.
"They [doctors] had tears streaming down their faces. One sat with me and said something I'll never forget. 'I'm sorry your wife has died'. But then he added 'would you like to meet your baby girl?'"
After being told Isabella had no brain activity and would probably die - she had probably been starved of oxygen when her mother was seizing - he was not sure he wanted to see her.
"I thought, what is the point of seeing her, holding her, loving her if she will just die?"
But after talking with friends and family, he decided to meet his baby for the first time.
"For three hours, she was on a ventilator and then I made the decision to turn it off," he said. "She died peacefully in my arms at 15 hours old.
"Although I only knew her for 15 hours I grew to love her so much.
"She and Heidi were, and always will be, the loves of my life."
Mr Renton has been taking part in Park Runs to raise money for a new MRI scanner for Nottingham's City Hospital, where his wife worked in the the Radiotherapy Centre, and so far raised more than £14,000.
Ms Renton's case has been referred to MBRRACE-UK (Mothers and Babies: Reducing Risk through Audits and Confidential Enquiries across the UK) for review. The coroner is also investigating.
Andy Haynes, medical director at Sherwood Forest Hospitals NHS Foundation Trust, said it was a "very rare" and "truly heartbreaking" case.
"We don't believe there is anything more we could have done and following this we have kept in close contact with Mr Renton and will continue to support him," he said.