Rebecca Brock death: Drug bag 'exploded' in woman's stomach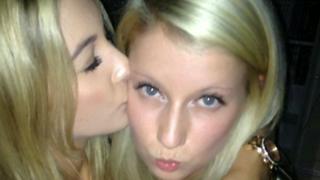 A teenager died in an Ibiza hotel room after a bag of ecstasy "exploded" in her stomach, an inquest heard.
Rebecca Brock, 18, from Nottinghamshire was found unresponsive in her room by hotel staff in September 2015, the city's coroners' court was told.
Spanish police began an investigation after the amount of the drug in her system was double the fatal dose level.
Rebecca's mother Margarita said her daughter may have been forced to swallow the bag of drugs.
Coroner Mairin Casey concluded the law student's death was "drug-related".
Updates on this story and more from the East Midlands
Rebecca's body was discovered at the Hotel Marco Polo on 28 September after she had travelled to the island for a friend's birthday.
Her mother told the inquest that a medical examiner in Spain said a bag had "exploded" in her body.
Mrs Brock said her daughter was unable to swallow tablets.
'Five bags with elastic bands'
She added Rebecca - who had been studying law in the Netherlands - had openly talked about experimenting with cocaine, but said she did not think she would have taken so much ecstasy in one go.
"The major crime squad were investigating rather than the police because of how she was found," she said.
"She wouldn't take any pills easily - I can't imagine that getting in her body at all. I can't see any other way than someone making that happen."
Mrs Brock added: "Spanish authorities say five bags were found which were wrapped with elastic bands."
'Ruptured body pack'
Coroner Mairin Casey said Rebecca flew to Ibiza from the Netherlands on 22 September and was captured on CCTV checking into her hotel.
"She didn't have contact with anyone after September 23," she said. "On the morning of September 28 she was tragically found deceased in the hotel room.
"Spanish authorities gave the cause of death as an adverse reaction to drugs and a ruptured body pack. The date of death has been recorded as September 26.
"Becky died of MDMA intoxication commonly known as ecstasy. There was no evidence of a form of assault.
"I find it impossible to say how a pack or packs were ingested. How these bags were in her stomach, we will never know."
After the inquest, Mrs Brock said outside the court: "There are some answers but there are also some clear gaps."