Union in Sports Direct emoji survey protest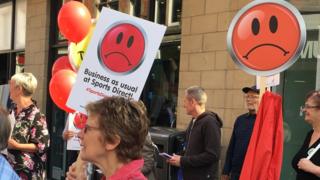 Protesters gathered outside a Sports Direct outlet in Nottingham over the use emojis by the firm to gauge worker satisfaction.
Warehouse staff have been asked to use touch pads when they arrive at work to indicate their level of satisfaction.
The Unite union says the system lacks anonymity and workers will be afraid of being labelled troublemakers.
The firm says it is trying to engage with staff to improve conditions.
As workers clock in at the warehouse they are asked to use emojis on a touch pad to indicate if they are satisfied at work, the union said.
If staff press the sad emoji twice, managers can bring them in for a discussion to find out why.
'Protect staff'
Unite said it opposed the new system because "workers are fearful of being labelled a 'troublemaker' and losing their job".
The union's assistant general secretary Steve Turner said: "There are still approximately 3,500 agency workers at Sports Direct's Shirebrook warehouse, the vast majority on contracts that guarantee no more than 336 hours a year.
"Put yourself in their shoes. Would you risk having hours withheld, possibly losing your job and being called in by management because you indicated dissatisfaction with your work environment?
"It's nothing short of an emoji con and a bogus exercise to gloss over past failures and some of the problems which still persist in the warehouse."
A Sports Direct spokesperson said: "We believe these comments by Unite do not accurately reflect the position at Sports Direct."
The firm said it has "a range of different measures in place to protect staff" including extensive feedback plus a workers' representative who attends meetings of the board.
It also has a staff listening group, a staff health and safety committee and a staff wellbeing service.
The firm added: "Whilst we are disappointed with Unite's stance we will continue to engage with the union, and we recently contacted Unite on this basis."