Paedophile jailed after volunteering at Nottinghamshire social club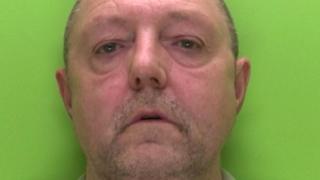 A paedophile found to be volunteering at "Family Night" events at a social club in Nottinghamshire has been jailed for 32 months.
Alan Carlson, 67, was given a sexual prevention order in 2001 banning him from having contact with children under the age of 16.
However, he used sweets and expensive gifts to interact with children at the club, Nottingham Crown Court heard.
Carlson pleaded guilty to four counts of breaching the order.
'How little remorse'
He was ordered to serve 32 months in prison for each breach and will serve each sentence concurrently.
He will also remain on the sex offenders register for life.
More stories from the East Midlands
Carlson, formerly of Portland Road, in Hucknall, Nottinghamshire, was arrested on 8 August after concerns were raised about him helping out at the social club where families took their children.
Det Con Lisa Avvio, of Nottinghamshire Police, said: "The way Carlson completely disregarded his sexual offences order, proves how little remorse he has for his previous actions or understanding of how inappropriate they were; a dangerous attitude to have in a community involving children.
"The local residents will understandably have a lot of anger that they have been deceived in such a way, I hope they can find some peace in the fact that this man is back behind bars.
"I would also like to thank them for their co-operation throughout the investigation."