Paul O'Neill jailed after directing child abuse in the Philippines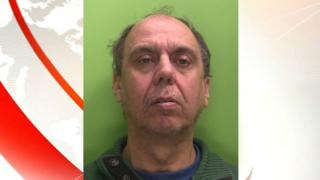 A former teacher who paid men to abuse children as young as four in the Philippines while he watched online has been jailed for life.
Paul O'Neill, 57, from Nottinghamshire, ordered the abuse in advance, giving specific instructions on what he wanted to see, Nottingham Crown Court heard.
He admitted three counts of rape and a further 27 sexual offences. He was told he would serve a minimum of 12 years.
The CPS said the virtual rape case was thought to be the first of its kind.
Updates on this story and more from the East Midlands
The court heard O'Neill, who retired from teaching in August, used chat logs to instruct adult abusers in the Philippines.
The married father paid thousands of pounds over several years to arrange abuse to satisfy his "fetishes" with child abuse, virginity and incest.
'Vile abuse'
Sentencing O'Neill, Judge Gregory Dickinson said: "You demanded that these children should suffer pain and degradation. You derived pleasure and satisfaction from seeing little girls being deflowered.
"Some of these ghastly events you recorded, for repeat reviewing. You are a danger to children. Given the chance, you will offend again.
"You are obsessed with, and addicted to, this most vile and horrific abuse. This is a case without parallel on the experience of all of us involved: police, counsel and judge.
"This is even worse than a rape campaign."
O'Neill, of Wroxham Drive, Wollaton Vale, enjoyed the financial imbalance between him and his victims, who were girls aged between four and 15. Some were from families desperate for cash for medicine and hospital bills, the court heard.
On one occasion, he offered to double his payment if the victim was aged just five.
Prosecutor James Varley told the court: "Mr O'Neill, a retired teacher, a bastion of the local church community and a Sunday school teacher, appeared to be a wholesome married father of two.
"In fact, he had a dark side to him which he kept concealed - he was obsessed with the sexual exploitation of pre-pubescent girls... and enjoyed the sexual abuse and degradation of young girls."
'World of depravity'
Shaun Smith QC, defending, said O'Neill had become addicted to commissioning the abuse, and "de-sensitised" to the damage he was causing.
He said: "What started out as looking at matters which he had obviously Googled quickly escalated into the offending, and sadly - as is all too common on the internet - it developed with speed and seriousness.
"From the privacy and safety of his own home it was all too easy for him to be sunk into this world of depravity."
Offences admitted by O'Neill included child rape, conspiracy to rape, arranging the commission of child abuse and child prostitution.
He also pleaded guilty to making 3,416 indecent images of children between 2008 and 2016, and possessing a further 2,832 prohibited images when he was arrested in November last year.