Rampton Hospital: 'Unsafe staffing' at high-security hospital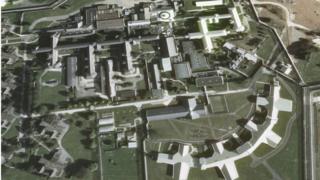 A health watchdog has raised serious concerns about safety at Rampton high-security hospital.
The facility, in Nottinghamshire, treats some of the most dangerous criminals in the UK, including child murderer Beverley Allitt.
Care Quality Commission (CQC) inspectors found staff alone on wards at night and fire doors left open.
The NHS Trust that runs the hospital said it was working hard to improve staffing and morale.
Live updates in the East Midlands
Rampton, which at the time of the inspection in March had 315 patients, was given an overall rating of "requires improvement", while leadership was described as "inadequate".
The CQC found that between September 2016 and February 2017, there were 120 instances where there was a single member of staff on a ward at night, when there should be at least two.
Inspectors were also told that fire doors were left open in the women's service so that the lone worker could move freely to maintain observations.
However, the hospital was rated as good in terms of the care provided.
Nottinghamshire Healthcare NHS Foundation Trust said in a statement that it was "disappointed" about the inadequate rating for leadership in the hospital and that a senior team was in place to bring about improvements.
The trust added that it had already implemented changes which are making a "considerable difference" to the staffing issues raised.
In 2011, the BBC was allowed to take a camera crew into the hospital for the first time in 18 years, giving a glimpse of life at Rampton.
The chief executive at the time Dr Mike Harris, said while the priority was to safeguard the public, many patients are there for their own safety.