Car slams into street cash machine in Beeston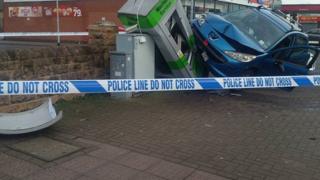 A cash machine was left badly damaged when a car smashed into it in the early hours.
Police said the crash happened at the junction of Queens Road and Humber Road in Beeston, Nottinghamshire, shortly before 05:00 GMT.
Nobody was injured in the collision and no arrests have been made.
A Nottinghamshire Police spokesman said the circumstances of the crash were still being investigated and witnesses were being sought.