Newly-planted trees vandalised in Beeston park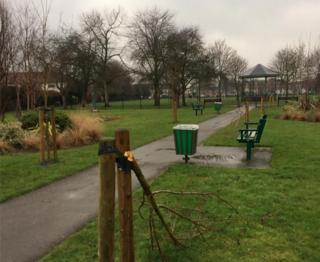 Newly-planted trees have been broken in half in an act of vandalism at a Nottinghamshire park.
The damage was discovered at Dovecote Lane Recreation Ground in Beeston on Saturday morning.
Nottinghamshire Police has asked anyone with information to contact them.
Jillian Rickly, who was walking her dog when she spotted the broken trees, said: "It's really unfortunate that someone, or a group of people, would cause so much damage."
"When I see things like this, I just think, 'this is why we can't have nice things'," she added.