Missing Nottinghamshire woman found using phone tracking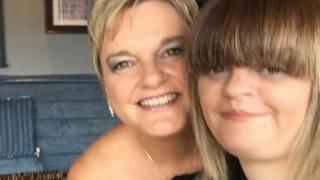 A missing vulnerable teenager has been found more than 100 miles away from her home thanks to mobile phone tracking.
Molly Davidson, 19, from Sutton-in Ashfield, Nottinghamshire, was last seen in Nottingham on Monday.
It was thought Miss Davidson, who has learning difficulties, went to London to see a stranger she had met online.
Her father Anthony said she had not been in contact and her devices were all offline, but the tracking technology showed she was in Edmonton.
It appeared she met a man through Facebook, where he had multiple accounts. They have now been deleted.
Her father said Miss Davidson's friends told him she and the man had been chatting online for several months.
Her parents had travelled to the north London district to find their daughter.