Sneinton stabbing: Man, 29, charged with murder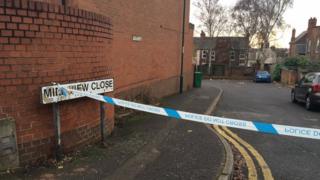 A man has been charged with the murder of a 38-year-old who was stabbed to death in Nottingham.
Junior Fuller was found with stab wounds to his chest in Mill View Close, Sneinton, on Sunday and later died from his injuries, police said.
The BBC has been told Mr Fuller was holding a party to celebrate the life of a man stabbed to death in the same part of the city 24 hours earlier.
Dwayne Johnson, 29, from The Meadows, appeared in court on Saturday.
Mr Johnson was arrested on Thursday and will appear at Nottingham Magistrates' Court, police said.
The BBC understands the party was being held in honour of Martin Maughan, 27, who was found wounded in West Walk, Sneinton, on Saturday and later died from his injuries.
Ben Richardson, 19, of Main Road, Gedling, has been charged with Mr Maughan's murder, while a 43-year-old, arrested on suspicion of murder, has been released on bail.
The two stabbings are not being directly linked, police have said.