Aerial photos capture East Midlands from above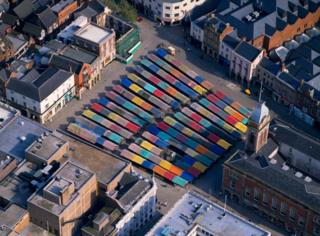 Contemporary aerial photographs of the East Midlands and other parts of the country have gone on display in a large-scale street gallery.
The Britain from the Air exhibition includes new images of Nottingham, where the photos are on display until the end of February.
The exhibition has been created by the Royal Geographical Society and street gallery specialists Wecommunic8.
There are more than 100 images in total.
Dr Rita Gardner, director of the Royal Geographical Society, said: "Britain from the Air provides a fantastic opportunity to see Britain's natural and human landscapes from a unique perspective and to explore the social, economic and environmental forces that shaped them."
More than five million people have already seen the touring exhibition, which has previously visited Bath, Oxford, Chatham, Edinburgh, Leeds, and Birmingham.
It is currently in Station Street, a newly-pedestrianised area next to Nottingham's railway station.
Nottingham city councillor Dave Trimble said Station Street was "quickly building a reputation for public art".