Man held over 'Jo Cox' tweet to MP Anna Soubry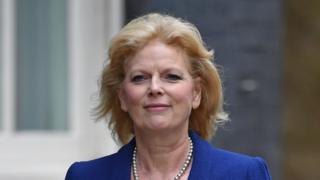 A man is being questioned over a tweet calling for someone to "Jo Cox" a Remain-supporting Conservative MP.
The post, directed at MP Anna Soubry but misspelling her name, said "Someone jo cox Anna sourby please".
It was a reference to the Labour MP murdered the week before the EU referendum. Her killer, Thomas Mair, 53, was jailed for life last week.
The Met said a 25-year-old man is in custody on suspicion of sending malicious communications.
He was arrested at his home in Bethnal Green, east London.
Nottinghamshire Police confirmed it was investigating the alleged threat made against the MP for Broxtowe.
Ms Soubry told the BBC it was the "second of two death threats" she had received in a week.
Ms Soubry responded to the tweet by saying: "This is what has happened to our politics. Tolerance & free speech must prevail."
A tweet from the same account then replied: "lol get jo coxed you old bint".
The account responsible for the tweet can no longer be found.
Hundreds of people took to the social media platform in support of Ms Soubry.
A Twitter spokesman told the BBC the organisation did not comment on individual accounts "for privacy and security reasons".