Rushcliffe Arena fire: Teenager guilty of arson attack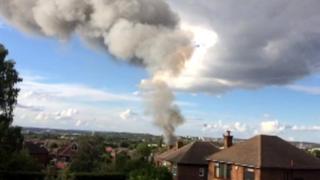 A 17-year-old boy who set fire to a toilet roll in a leisure centre causing damage and trading loss of £250,000 has been given a two-year detention order.
The fire at Rushcliffe Arena in West Bridgford happened while the centre was under renovation.
The teenager, who cannot be identified for legal reasons, had denied setting the fire in September last year.
He was found guilty at Nottingham Youth Court on Friday of causing the fire.
The teenager was told that he would have been detained for a shorter time if he had pleaded guilty and shown remorse.
The court heard he was one of 15 children playing in premises, owned by Rushcliffe Borough Council, when the fire began.
The prosecution claimed he did it out of bravado to appear big in front of his peers but that their lives could have been put at risk.
He was caught after boasting about it on a bus and being overheard by a woman.
The damage amounted to £147,000, but the fire made it impossible for the centre to open in time for this Christmas, leading to an estimated trading loss of £136,500.