Brain surgery delay after 'administration error'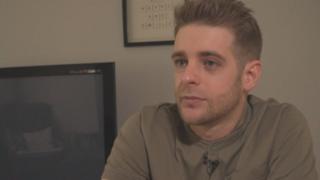 A man has been left waiting months for brain surgery to treat a potentially fatal condition because of a hospital administrative error.
James Dakin has been told he was not referred for surgery because the letter from his consultant had "not formatted on the dictation system".
Mr Dakin, from Nottingham, has to cope with severe headaches and short-term memory loss while he waits for surgery.
Nottingham University Hospitals NHS Trust has apologised for the delay.
However Mr Dakin, who has been waiting for an operation date since September, has still not been told when he will have surgery.
'Squeezing my brain'
"They told me it was potentially fatal; I thought that might speed it along," said the 27-year-old, from the Bestwood area.
"I have headaches all day, every day, from the moment I wake up.
"I wake up and it's just like a chronic migraine. It feels like someone has got their hand in my brain and is just squeezing it."
What went wrong?
James Dakin was admitted to the Queen's Medical Centre (QMC) in Nottingham on 16 September.
He had woken up with a severe headache, could not see out of his right eye, and could not speak properly.
The hospital told him he had an arteriovenous malformation (AVM).
He was discharged on 23 September and told he would receive a letter or phone call in a few weeks about having stereotactic surgery at a hospital in Sheffield.
When there was no letter or phone call, he repeatedly contacted the QMC.
In an email seen by the BBC, a secretary told him on 28 October: "I seems that MR Howarth [the consultant] had dictated this [the referral letter] a couple of weeks ago but it has not formatted on the dictation system."
Mr Dakin has been given three months off work from his job in a supermarket.
However, he intends to go back to work soon, despite being ill, because he cannot afford to live and pay his mortgage without working.
"I try not talk about it because it does make me quite upset," he said.
Nottingham University Hospitals NHS Trust said in a statement: "Mr Dakin was referred as a non-urgent patient to Sheffield Teaching Hospitals following an appointment in Nottingham.
"Regrettably there was a five-week delay in processing Mr Dakin's transfer for which we apologise.
"The referral has been received by Sheffield for the team to determine Mr Dakin's ongoing treatment plan.
"We have been in regular contact with Mr Dakin to update him on the progress of his referral and he will receive details of his next appointment in the near future."