Ex-Nottinghamshire detective says rape charge 'nonsense'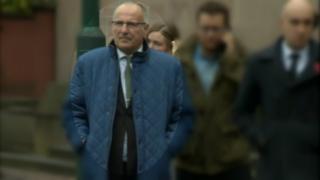 A ex-police officer, accused of raping a 14-year-old girl 36 years ago, has said the allegations were "nonsense".
Raymond Jeacock, 62, from Kirkby-in-Ashfield, Nottinghamshire, denies attacking the girl after taking her home from a police station.
Nottingham Crown Court heard he resigned due to a complaint at the time. The case was reopened in 2014.
Mr Jeacock said it was the time of "Life on Mars policing" but insisted he "never laid a finger" on the girl.
The girl's father complained in 1980 after he found Mr Jeacock with the girl, but no charges were brought.
The case was reopened when the alleged victim, now in her 50s, made a separate complaint.
An interview Mr Jeacock gave to officers in 2014 was read out to court.
He described how things were different in the 1980s, saying it was the time of "Life on Mars policing", a reference to a TV series depicting old-fashioned policing.
Admitting he did take the girl back to her home, Mr Jeacock told officers he wanted to search the house, but only because he was looking for stolen property in relation to her boyfriend whom he was investigating.
The trial continues.