Black Lives Matter four guilty over Nottingham tram demo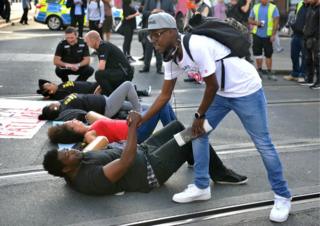 Four Black Lives Matter activists who blocked tram tracks in Nottingham as part of a national day of action have been given conditional discharges.
The three women and one man were found guilty of wilful obstruction of a highway following a trial at Nottingham Magistrates Court.
They wanted to highlight "everyday racism" and issues affecting black people including deaths in custody.
But the judge said their actions on 5 August had "crossed the line".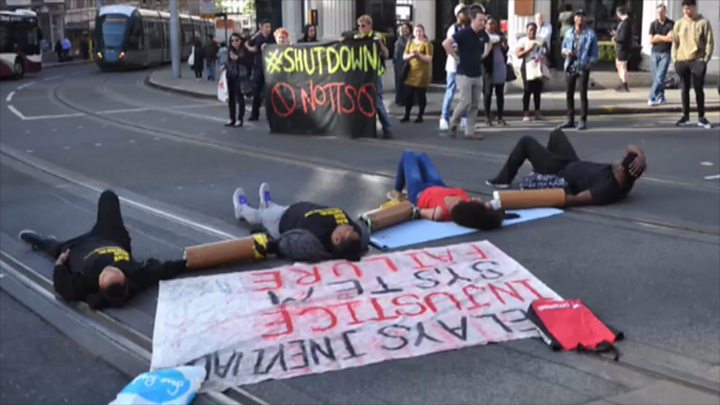 District Judge Richard Marshall said: "I have no doubt that all four defendants, particularly the two who gave evidence, are passionate and sincere about these issues and believe strongly in the purpose of their cause."
The judge said he had taken into account the length of the protest - three hours - the location and the purpose.
"The reality is that considerable inconvenience was caused to the public, and it's also a reality that the demonstration could have taken place elsewhere, in Market Square," he said.
"Your motives were indeed very sincere but as I've indicated it did cross the line in terms of obstructing the highway."
More on this story and other news in Nottinghamshire
The defendants were Eshe Naomi Graham, 20, of Tennyson Street; Yvonne Francis-Parmar, 50, of Haydn Road; Lisa Robinson, 48, of Swains Avenue and Malachi Glaiester Thomas, 30, of Carlton Hill.
In addition to the three-year conditional discharges, they were ordered to pay £155 in costs plus a £20 victim surcharge.
Why were they protesting?
The Black Lives Matter movement began in the US in 2012 after George Zimmerman was found not guilty of murdering Trayvon Martin in Florida
It was founded by three women who have described it as "an ideological and political intervention in a world where black lives are systematically and intentionally targeted for demise"
There is now a UK-wide network which said in a statement that the protest aimed to highlight the "alarming gulf between the experiences of black and white people in Britain - in education, in the justice and prison systems, and in employment"
The group highlighted Joy Gardner, Sheku Bayoh and Sarah Reed as examples of black people who have died in custody in the UK
In her evidence, Lisa Robinson compared Black Lives Matter to the Civil Rights Movement.
"I didn't go out to unlawfully obstruct a highway or to cause local people hindrance," she said.
"I wanted to passionately show my solidarity for people who are struggling for justice and liberty in this country and globally."
Eshe Graham said: "I believe we should have equality. You have to understand that at this moment in time not everybody has that equality."
The other defendants did not give evidence.
During the one-day trial, Robinson and Graham denied claims the protest action was designed to create "maximum disruption".
They told the court they chose a location where passengers could get off the trams and walk to another tram stop.
Robinson said: "I physically put my body on the line for something I believe in, physically on the tramlines."
The protestors' arms were linked with tubes which appeared to be keeping them locked together.
However, when police removed the tubes with cutting equipment they realised the protesters had been simply holding hands.
When they were arrested, two of the women told police their names were Miss Lockdown and Miss Solidarity. The man gave his name as Mr Love.
On the same day there were similar protests in Birmingham, Manchester, and on the M4 at Heathrow.
It came a day after the fifth anniversary of the death of Mark Duggan, who was shot by police.