Detonate festival shut over health and safety concerns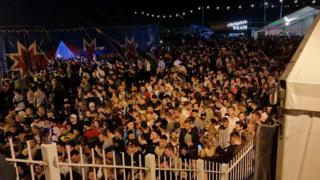 A music festival has been shut down early amid health and safety fears.
Detonate Halloween was an all-day event at Colwick Park in Nottingham, featuring rap, grime and dance music.
Police said they were called to help clear the site at 20:00 BST on Saturday, three hours ahead of the scheduled end time, but there were no arrests.
Organisers said the decision was taken over concerns with one of the event tents but did not give further details.
'Quite scary'
Detonate started as a club night and grew into a festival three years ago.
Police said they were called to help ensure the safety of revellers and with the help of additional transport, the site was cleared by 21:00.
Organisers tweeted: "It's with regret, we have to end our Nottingham show early due to a health & safety issue with one of the tents. We're gutted."
Maddie Griffith, a student who was one of thousands to pay £50 a ticket, said: "It was awful really. We queued for 50 minutes to get into one of the tents.
"When you were inside there was a loads of pushing and shoving and people were climbing on the inside of the tent. It got quite scary."
While no full explanation has been made, organisers have said they will refund drinks vouchers, which had to be bought in advance.