Nottingham tram work led to £3.5m in 'financial assistance'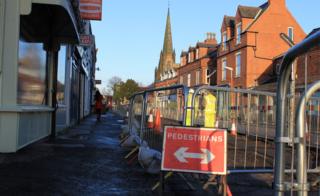 Businesses affected by the construction of Nottingham's expanded tram network received about £3.5m from two local authorities, it has been revealed.
A county council report said 128 traders received "financial assistance" during building work from 2013 to 2015.
Firms in Beeston and Chilwell, near Nottingham, said delays and disruption lead to a huge drop in takings.
One shop owner said the fund was a "drop in the ocean" compared to what was spent on the £570m project.
More on this story and other news in Nottinghamshire
Julia Cameron, who runs Cameron House, said she lost about £1,500 a week in trade at the time.
She said: "We were promised 12 months of work, it ended up as two years, if they had done what they said they were going to do, it wouldn't have cost them so much [in financial assistance]."
The extension to Toton and Clifton, from Nottingham, has been in operation since August 2015.
However, a number of delays led to anger among traders and residents during the laying of 10.8 miles (17.5km) of new track and construction of 28 new stops.
Steve Calvert, from the county council's transport and highways committee, said the fund had been "necessary" to help the traders.
He said the report also highlighted there has also been a "great benefit" to the area from having the tram and customer satisfaction is "incredible".