Arson suspected in huge Nottinghamshire straw fire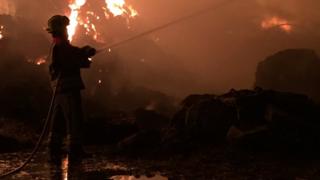 A large straw fire that caused more than £100,000 in damages is being treated as arson, police and insurance officials say.
The blaze at Mill Farm in Oxton, Nottinghamshire on 5 October destroyed 1,000 tonnes of hay and straw and threatened a nearby farmhouse.
The fire is still smouldering five days after the blaze.
Station manager John Mills said it was the largest straw fire he had ever handled.
Andy Guy, of the National Farmers' Union (NFU), said: "We believe this was probably arson and there have been one or two other cases in the area."
The nearby Epperstone Bypass was closed following the fire and only reopened later the next day.
Helen Asher, of Mill Farm, said: "It was sheer panic at first and then you become numb - and when they said the house was in danger of going up it was disbelief.
"We have got lambing season coming up at the beginning of the year… and with winter coming up if we get snow then we need the hay to feed them and we haven't got that anymore.
"(Damage is) in excess of £100,000 but we won't know exactly until the loss assessors come along."