Survival of the Fittest race: Swim cancelled due to bacteria levels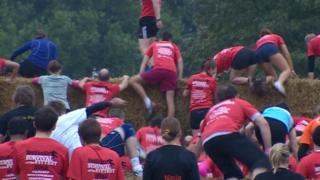 The swimming section of an extreme obstacle race has been cancelled at a venue where dozens of people fell ill with sickness and diarrhoea.
Organisers of the Survival of the Fittest race, at Nottingham's National Water Sports Centre, said water test results had "exceeded safe levels".
It is the first event since a similar contest after which competitors claimed "poor quality water" made them sick.
A spokesman said high levels of bacteria had been found in the water.
More on this story and other news in Nottinghamshire
Jim Mee, the director of Rat Race, who organise the Men's Health Survival of the Fittest event, said water quality was tested regularly at the centre and a decision was made on that advice.
He added it was his organisation's responsibility to keep the entrants safe ahead of the event.
It has not been confirmed what type of bacteria was found.
Brian Taylor, chair of the trust that runs the centre, said indicators showed water quality levels were at the high end of "normal parameters".
He said the organisers chose to change the obstacle as a "precaution".
A letter to participants stated: "The tough decision has had to be made to remove the water obstacle content in the National Water Sports Centre for your safety.
"In eight years of operation this is the first time that the water content has had to be removed."
About 2,000 participants are due to run, jump, crawl and climb their way around the course.
An air bag jump that will replace the swim involves runners "hurling themselves off of the top of a truck onto a professional stunt airbag".
In July, a Public Health England investigation found that the sickness and diarrhoea suffered by some entrants after the X-runner mud run event was probably caused by exposure to the water during the race.
---
Lurking in the water...
The NHS says the "main culprits" responsible for diarrhoea and vomiting after swimming in contaminated waterways are the bacteria E. coli and parasite cryptosporidium.
They can be spread by swallowing water from lakes, streams and rivers containing sewage or any kind of animal or bird droppings.
Advice to avoid the risk of tummy bugs is to not drink from streams even if they look clear, as cows or sheep might have urinated in them.
Hands must be washed after paddling in a river or stream and people should avoid swallowing water while swimming.
Source: NHS
---