Grandmother Juanila Smikle jailed for cruelty after retrial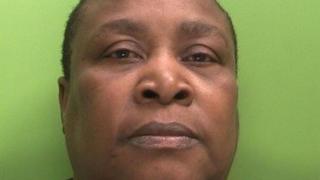 The grandmother of a girl who died of a brain injury has been jailed for "unremitting cruelty" after a retrial.
Juanila Smikle, 55, was convicted of cruelty to Shanay Walker and four other youngsters after she appealed against her original conviction.
The judge at Nottingham Crown Court said she showed no remorse and jailed her for a total of seven years.
Shanay, 7, died at a house in Nottingham, in July 2014, after suffering more than 50 injuries.
Smikle's cruelty first came to light during investigations into the death of Shanay, who was in the care of her aunt Kay-Ann Morris.
Morris was cleared of murder but found guilty of cruelty and jailed for eight years, at the original trial in June 2015.
Her mother Smikle, formerly of Easegill Court, Top Valley, was convicted at the same trial of cruelty to four children.
But a retrial was ordered after she appealed against the verdict and an additional fifth charge against another youngster - now an adult - was added.
The court heard the woman was "used as a slave" when she was aged 12 to 16 and subject to regular beatings, between 2003 and 2006.
Smikle would "hit her, kick her... use anything she could lay her hands on" to beat her victim, who knew the assault would be severe if she was gagged to quieten the screams, the court was told.
It also heard the four other children, including Shanay, were made to punish each other, eventually learning to pretend to inflict pain to keep Smikle happy.
During sentencing Judge Gregory Dickinson QC said that while it was never alleged Smikle killed Shanay she "contributed to the suffering that little girl endured during her short life".
'Left penniless'
He added the victims were persuaded that the beatings were their own fault.
In mitigation, Stephen Moses QC said Smikle had had a troubled upbringing, was repeatedly raped by a former partner and her husband died while she was in custody.
"She has lost all of her family... her worldly belongings have been lost, her home has been lost... her children have depleted her entire life savings leaving her penniless," he said.
Judge Dickinson imposed the same sentence of four years for the four counts in the original trial with an additional three years to run consecutively for the new charge.
Her two years on remand will count towards the jail term.