Illegal waste operators 'on the rise'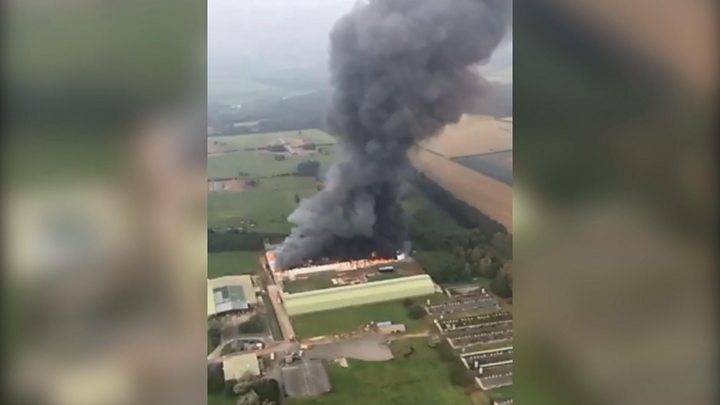 The use of warehouses to store illegal waste has almost doubled in England since 2014, the Environment Agency has said.
More than 1,000 waste sites were discovered without a legal permit between April 2015 and March 2016 - an increase of about 82% from 2013-14.
The agency said illegal waste activity costs taxpayers in England £1bn a year.
Last month, a fire completely destroyed a warehouse in Nottinghamshire, which was storing waste illegally.
More on this story and others from Nottinghamshire
The blaze at Oakfield Farm, in Forest Lane, Walesby, which started almost two weeks ago, is still giving off smoke and an investigation is ongoing.
Enforcement team leader Peter Haslock said: "We know the site did not have a permit for waste activity and we believe the waste was involved in the fire.
"Over the last three or four years we have seen an increase in these types of activity.
"We are currently investigating five cases in the East Midlands and it's possible there are others that we are not aware of."
In 2015-2016, more than 1,000 new illegal waste sites were identified by the agency.
More than 800 new illegal waste sites were discovered in 2014-2015 and about 600 in 2013-14.
In 2015, the Environment Agency was given powers to act more quickly to close illegal sites.
Landowners are liable for the clear-up costs when the illegal waste operators cannot be found.
"There are rogue waste operators, who hire land or share buildings and will fill with waste and then disappear leaving an environmental problem for the landowner of the property," Mr Haslock said.
"It's really important that the landlord know who they are dealing with [as they] will have to pay for the disposal of the waste if we cannot trace the people who have deposited it.
"The costs of the clean up can be considerable depending on the type of waste."
Rise in illegal waste sites
622
illegal waste sites still in use
2013 - 14 under 600 new illegal waste sites identified

2014 - 15 more than 800 new illegal waste sites identified

2015 - 16 more than 1,000 new illegal waste sites identified
Environment Agency
The agency said 2,000 tonnes waste, which appeared on a site on Bowbridge Road, Newark, Nottinghamshire, in March 2015, would cost almost £200,000 to dispose of legally.
Mr Haslock said the rise in illegal waste sites was due to "money to be made".
The Chartered Institute of Wastes Management said illegal operators charge to remove waste and either dump it or take it to an illegal site.
"They will therefore avoid paying for the permit and the legitimate treatment and disposal of the waste," said Chris Murphy.
"This damages the reputation of the industry, can damage the environment, have health impacts and avoids paying tax."
Waste offences
It is illegal to:
Deposit or knowingly cause or knowingly permit to be deposited (controlled) waste in or on land unless in accordance with the terms of a waste management licence
Treat, keep or dispose of controlled waste in land or by means of any mobile plant unless in accordance with the terms of a waste management licence
Treat, keep or dispose of controlled waste that could cause environmental pollution or harm human health
If convicted in the magistrates court, the maximum punishment for these offences is 12 months imprisonment and/or a fine of £50,000
In the crown court, it could run to a five year jail term or an unlimited fine
Source: Environment Law