Nottingham pub's Trump urinal 'a bit of fun'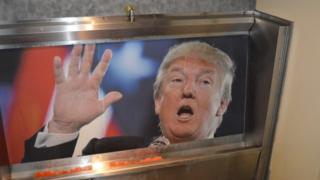 An image of US presidential candidate Donald Trump has been installed in a pub urinal as "a bit of fun".
The Raglan Road pub in Nottingham created the unusual tribute to the billionaire business mogul in its men's toilets.
Manager Ruth Beraki said it was the owner's idea but insisted it was not meant to be a political statement.
"We are not trying to influence people. It is only meant to be a bit of fun," she said.
She said many people have been spotted taking selfies with the image and "think it is brilliant".
No complaints had been made and no-one had said anything about it "not being appropriate".
"It's a talking point," Ms Beraki added.
The Raglan Road bar was converted from a lighting shop to a pub in 2008.
In March, a pub in Kennington set up urinal-style voting booths, with the help of the Last Leg satire show, featuring the likenesses of Donald Trump and fellow Republicans Marco Rubio and Ted Cruz to allow punters to vote for their least favourite candidate.
In August, a pub in Dublin also decorated its urinal with a portrait of the Republican candidate to make patrons' trip to the toilet "a wee bit more entertaining".
Ms Beraki said she had not yet considered putting a photo of Democrat candidate Hillary Clinton next to the one of Mr Trump.
The BBC has made efforts to contact Mr Trump for a comment but is yet to receive a response.