'Unforeseen circumstances': Clairvoyant cancellation sparks media storm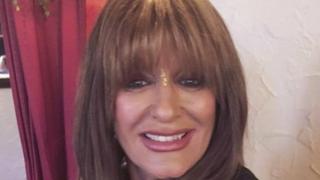 A tweet about a clairvoyant cancelling her show due to "unforeseen circumstances" has resulted in a social media storm.
The tweet went viral on social media with many people wondering "why she didn't see it coming".
Trisha, who cancelled her gig at Mansfield Town FC on Thursday, is described on her website as having "outstanding accuracy ".
She said the reaction was "a bit cruel" but added: "I can see the humour".
'Tongue-in-cheek'
Among the comments on Facebook was Rob Vaughan's observation "It's always hard to find a happy medium".
And Terry Ryan added: "I KNEW this was going to happen. Send me £50."
Trev Negus countered with "I'm confused! Is her name Trisha or Clair?
Mansfield Town Football Club, where the show was scheduled, said: "Our tweet regarding the cancellation of the clairvoyant Trisha has been shared thousands of times over the last 24 hours and has been more well-received than we ever imagined.
"The event was genuinely cancelled and the wording of the tweet was intentionally tongue-in-cheek, and we have been impressed by the response we've had to it."