Vintage engines mark Nottingham Central Fire Station closure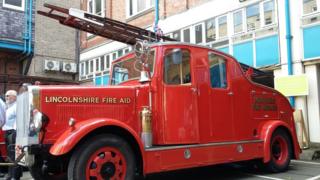 Vintage fire engines lined up to mark the closure of Nottingham's main fire station.
Operations based at the 76-year-old Central Fire Station have now moved to a specially-constructed building in London Road.
Past and present members of the fire service met to mark the occasion.
The vintage vehicles on display included turntable ladders from the 1930s, rescue engines from the 1950s and 1980s' Dennis engines.
Station manager Andy Lindley said: "This is the last look at Central before it closes, and what better way to give a nod to its history than by showcasing fire engines and other vehicles which have served here through the years.
"The parade shows how much things have changed over time, from the 1930s' appliances to present day models which are more advanced to suit the changing needs of a modern fire service."
The closure also gave people the chance to see photographs of staff and equipment over the past 76 years.