Healthcare assistant 'posed as doctor' at Willow Medical Centre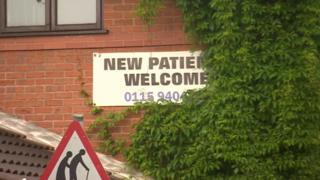 A healthcare assistant posed as a doctor and carried out internal examinations at a surgery without being qualified to do so, a report has revealed.
Willows Medical Centre, in Carlton, Nottinghamshire, was closed in June by the Care Quality Commission (CQC).
It was put into special measures because patients were at risk of harm.
The commissioning group responsible for care in the area said what happened was an "unacceptable breach of trust".
About 4,000 patients were advised to go to nearby surgeries following the closure but no explanation was provided at the time.
The report revealed the member of staff was appointed by the practice in March 2016 as a healthcare assistant but was known within the practice as a doctor, using the title in correspondence.
She also diagnosed patients and appeared on the appointment system as a doctor.
Janet Williamson, deputy chief inspector of general practice and dentistry, said a "considerable" number of concerns were uncovered following an inspection in June.
She said: "The practice had knowingly employed a healthcare assistant to undertake medical examinations which were outside the scope of the role and for which the individual was not registered or regulated."
The assistant has since been told they were carrying out practices beyond their qualifications and will no longer be able to do such activities, a CQC spokeswoman said.
The investigation also found there was not enough staff to keep patients safe and the surgery did not have its own practice nurse.
Dr James Hopkinson, clinical lead for the Nottingham North and East Clinical Commissioning Group, said: "We are shocked by the CQC's findings and we are sorry that the patients have been let down in this way."
The centre was rated "inadequate" overall.
The group said it had received a formal resignation from Dr Sylvester Nyatsuro, who ran the practice, in relation to his GP contract.
It added that 70 patients had been recalled as a precautionary measure following the report's findings.
The CQC said it was working with the commissioning group to ensure all the surgery's patients had access to other GP services in the area.
---
What is a healthcare assistant?
Healthcare assistants (HCA) work under the guidance of a qualified healthcare professional, usually a nurse
Sometimes staff working in HCA roles are known as nursing assistants, nursing auxiliaries or auxiliary nurses
In health centres and GP surgeries an HCA will sterilise equipment, do health checks, process lab samples and take blood
HCAs also work with doctors, midwives and other healthcare professionals
Source: NHS health careers
---