Black Lives Matter: Protesters charged over blocked Nottingham tram tracks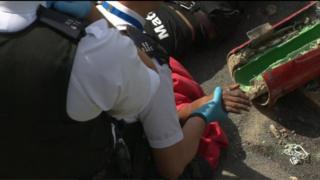 Four people accused of blocking tram tracks on a day of anti-racism action by Black Lives Matter have been charged.
The three women and a man have been charged with the wilful obstruction of a highway in Nottingham.
Traffic in parts of the city centre was "gridlocked" when people lay across tracks during rush hour on Friday.
The four accused are due to appear before the city's magistrates' court on 22 August.
They are; Eshe Naomi Graham, 20, Yvone Francis-Parmar, 50, Lisa Robinson, 48, and Malachi Glaiester Thomas, 30, all from Nottingham.
What is Black Lives Matter?
The movement began in the US in 2012 after George Zimmerman was found not guilty of murdering Trayvon Martin in Florida
It was founded by three women who have described it as "an ideological and political intervention in a world where black lives are systematically and intentionally targeted for demise."
Last month hundreds of people supporting the campaign marched through central London to the Houses of Parliament in protest at the shooting of black men by police in the US
There is now a UK-wide network which they say focuses on campaigning for black people who have died at the hands of police in this country
During a day of action protesters also caused disruption near Heathrow and Birmingham airports.
Police have arrested 10 people in connection with the protest at Heathrow and a further five in Birmingham.
The action came a day after the fifth anniversary of the death of Mark Duggan, who was shot by police in London.