Nottinghamshire Police officer 'had affair with murderer's lawyer', panel hears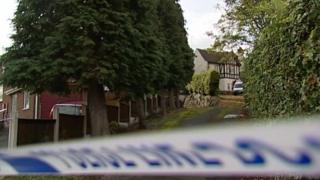 A police officer who supported the family of a murder victim was having an affair with a solicitor of one of the accused, a misconduct panel has heard.
Det Con Peter Surgay was a family liaison officer following the murder of Clifford Collinge, who was killed in Warsop, Nottinghamshire, 2011.
Mr Surgay's relationship with Deborah Bell was kept secret as his wife also served with Nottinghamshire Police, the panel heard.
The hearing is listed for two days.
Mr Surgay is alleged to have been involved in a sexual and "volatile" on-off relationship with Ms Bell since 2009.
Ms Bell then went on to act as a solicitor for Stephen Shreeves - one of the three accused of the murder of Mr Collinge.
Shreeves is currently serving a life sentence after being found guilty of murder. Widow Charlotte Collinge was acquitted following a retrial.
Mr Surgay is accused of failing to report the nature of the relationship which, it has been argued, could have potentially compromised a major investigation.
The panel heard Mr Surgay and Ms Bell went on holidays to California, Cornwall and Dublin during their five-year relationship, but the officer maintained it was a "platonic relationship" save for a "drunken fumble" early on.
Force solicitor David Ring said: "It was a matter of absolute common sense that a person in a position of trust such as a family liaison officer - the person who in effect supports the family during what must be an unbelievably traumatic experience - has the trust of the family."
Ms Bell told the panel at the police's headquarters in Arnold that they met up "fairly regularly" and that she was aware Mr Surgay was married.
She ended the relationship with "no animosity" in 2013 and said: "I did not feel there was any mileage in it so it just came to a natural conclusion."
Mr Surgay is also facing another allegation of gross misconduct for sending "utterly appalling" text messages to Ms Bell after the breakdown of their relationship.
He is further accused of misusing police systems over "an extended period of time" in searching for his own surname as well as crimes around the area he lived in Kimberley.
The hearing continues.