Nottingham man Mark Camamile's bionic arm campaign attracts £30k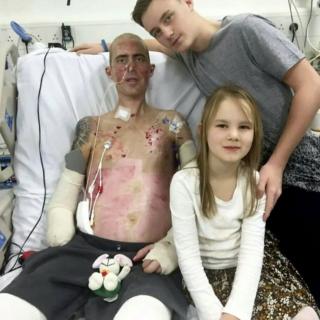 A man whose lower legs and right hand had to be amputated is set to get a bionic arm after members of the public donated more than £30,000 in six days.
"Overwhelming" support for Mark Camamile's campaign has included an anonymous £5,000 donation.
Doctors were forced to amputate the Nottingham mechanic's limbs in October in order to save his life.
Mr Camamile thought he had "man flu" but it turned out to be pneumonia, which developed into septicaemia.
Friends and family launched the fundraising page last weekend and it passed the £27,000 target late on Friday, thanks to donations from more than 1,000 people.
The anonymous person who donated £5,000 on Friday wrote simply: "Good luck. Best wishes. Stay strong."
Heidi Bedson, one of the fundraisers, says she feels "absolutely overwhelmed".
"I can't believe the scale it's gone to. I never expected it in a million years," she said.
"There have been donations from all over the world, which is unbelievable.
"But it's so fantastic for Mark, I mean he deserves it, he really does, and I'm just so glad it's happened."
Mr Camamile's goal is to be able to work as a mechanic again so that he can support his family.
Speaking before the target was reached he said: "It will be the difference between how I am now and getting my independence back. I can't put a price on that."
He has been learning to walk on prosthetic legs, but Ms Bedson said any extra money raised will be put towards getting better legs.
"He's there for his family, he still wants to do things with everybody," said Ms Bedson.
"He's really, really trying. He doesn't show that it's affected him or it gets him down or anything."