Trevor Gray case: Wrong not to reinstate detective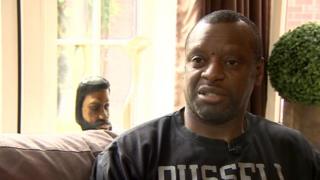 A former police officer who was wrongly convicted of rape has been told the decision not to reinstate him was wrong.
Trevor Gray, a former detective, was accused of sexually assaulting a 43-year-old woman while off duty, at a house in Nottingham in 2011.
He was jailed but although his conviction was later quashed he was told he could not return to the force.
Mr Gray said he was "elated" by the decision of the High Court.
A Police Appeals Tribunal board ruled that Mr Gray could return to work after his conviction was overturned in 2013.
However, Nottinghamshire Police suspended him in April 2014, a decision which was later upheld by the same tribunal board.
The judge quashed those decisions saying that they fell "well below the standard" expected in such "important disciplinary proceedings".
Mr Gray and his wife Alison said in a statement: "We are elated and relieved that our case has finally been determined at the highest level of the judiciary.
"This living nightmare is now in its fifth year and despite today's ruling, the ongoing pain and distress that these unlawfully imposed disciplinary measures have caused have scarred us for the rest of our lives."
The Independent Police Complaints Commission (IPCC) said: "Now that the legal proceedings can no longer be prejudiced we will be reviewing our position and considering publication of our investigation report."
In a statement, Nottinghamshire Police said it was refused permission to appeal against the decision at Friday's hearing, and added Mr Gray's reinstatement will be stayed pending the force's application to appeal to the Court of Appeal.