Teenagers released over Basford 'ball of flames' fire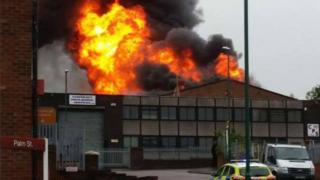 Two teenagers arrested on suspicion of starting a fire which sent a ball of flames over Nottingham have been released on bail, police have said.
The fire in Basford caused plumes of smoke to blow across the area, leading to hazardous driving conditions and dozens of residents evacuated.
It broke out at a clothing and textile factory in High Church Street on Friday morning.
The teenagers, aged 16 and 17, were released pending further inquiries.
They had both been arrested on suspicion of arson with intent to endanger life.
Nottinghamshire Police said 55 people were evacuated and spent the night in an hotel. All but one have now been allowed to return home, but have been told to keep their doors and windows closed.
One local resident, Jules Anderson, said the whole experience had been quite worrying.
"[When we were told we couldn't go home], I had a bit of anxiety but we have been told the properties are alright.
"It's unsettling but I was able to go in to grab a few bits - a change of clothes and my medication."
Roads in the area were closed for several hours and the clean-up is continuing. No one was in the building at the time of the fire, police said.
Jo Wooler-Ward from Nottinghamshire Fire and Rescue Service, said fire crews were initially unable to get inside the building as it was structurally unsafe and had to fight the fire from the outside.
She added asbestos had also been found inside the property.
At 09:30 BST on Saturday, the fire service said the fire had been finally put out and the site was being handed over to the police.