Memorial for family killed by RAF bomber in World War Two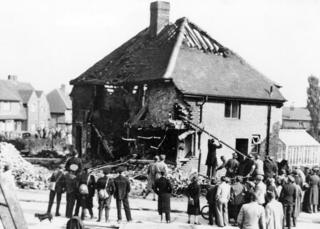 Money is to be raised for a gravestone in memory of a family killed when a RAF bomber crashed into their house during World War Two.
All five members of the Evans family died when a Fairey Battle light bomber plunged into their home on its way to Hucknall Aerodrome, in September 1940.
They were later buried in a pauper's grave in Hucknall Cemetery.
Campaigner Dorothy Bevins, a distant relative, said about £2,000 is needed for a headstone on the unmarked grave.
Alice and Albert Evans, 28, and their children Ronald, eight, Alice, six, and John, two, died in their home in Laughton Crescent, on the Ruffs Estate.
The Polish pilot was also killed in the crash and buried in Hucknall Cemetery after being given a full military funeral with a headstone provided by the War Graves Commission.
Mrs Bevins said the family, who lived close to the airfield, "paid the ultimate price" and should be commemorated.
She said: "I want to buy the grave and fit a headstone on it. It's important for the family and for the Hucknall community and our heritage.
"They were the only people in [the town] to be killed during the war."
Alice Braybrook, 94, lived nearby and remembers hearing the huge bang when the plane hit the house.
She said: "I was ironing in the kitchen, I heard this plane coming down and I thought they were dive-bombing.
"[Then] the man next door walked in [covered] in blood."
Mrs Bevins said would also like a memorial service to be held in the family's honour.