Langar Hall owner Imogen Skirving killed in Menorca crash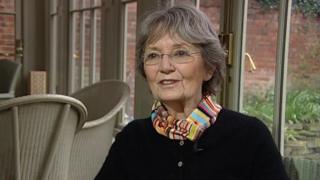 The owner of a country hotel, favoured by the elite, has died after being hit by a car while holidaying on Menorca, her family has said.
Imogen Skirving, owner of Langar Hall, Nottinghamshire, was with her daughter and a friend when a car struck them, dragging two of them along the road.
Her daughter, Louise, and friend Maggie Hall were injured and remain in hospital on the Spanish island.
The family said they believe a woman who lives locally was arrested.
More on this story and other news in Nottinghamshire
Mrs Skirving had been visiting her older brother Marcus on a family holiday at the time of the crash.
Her nephew William Huskinson said she was walking back from the beach along a windy road, without a footpath, when the crash happened on Wednesday evening.
Langar Hall
Langar Hall was built in the 19th Century on the site of a medieval castle
Imogen Skirving's great-grandmother bought it in 1860 before it was converted in to a bed and breakfast in the 1980s
Guests have included Keira Knightley and the Archbishop of Canterbury while former Labour leader Ed Miliband married there
He said a car "came round the corner and hit them from behind. Imogen and Louise were both dragged along the road by the car and Maggie was hit in the legs".
Louise was knocked unconscious but did not suffer severe injuries while Ms Hall broke both legs and suffered a head injury, he said.
The family are due to speak to police later.
BBC cricket correspondent Jonathan Agnew paid tribute to the hotelier tweeting: "Desperately sad news. We will all miss Imogen dreadfully. Eccentric, funny lady who ran a brilliant business."
Nottinghamshire MP Anna Soubry said it was "very sad news" and that Mrs Skirving was a "wonderful host and entrepreneur".
Mr Huskinson said the family hoped Mrs Skirving's body would be repatriated soon with a funeral due in the village of Langar.