Nottingham man jailed for 13 years after 'waterboarding' infant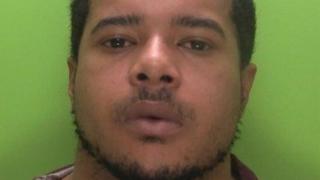 A man who almost killed a child in what a judge described as a "waterboarding" episode has been jailed.
Earl Jason Romans, 29, forced his victim to consume "in excess of five pints of water in a short period of time", medical reports showed.
Romans, accused of grievous bodily harm with intent against an infant child, changed his plea to guilty during his trial at Nottingham Crown Court.
Romans was jailed for 13 years and three months, by Judge Timothy Spencer.
More stories from Nottingham and Nottinghamshire
Police said the case was "distressing and disturbing", with the court being told there were about 40 marks on the child's body "consistent with physical abuse".
Waterboarding is a torture method that involves restraining the victim and putting a cloth over their face and pouring water onto them.
'No reasonable explanation'
Doctors initially thought the child, who was taken to the paediatric intensive care centre at Nottingham's Queen's Medical Centre from Bulwell by paramedics in November 2015, would not survive.
A Nottinghamshire Police spokesman said: "Initial medical opinion was extremely bleak and it was expected that the child would not survive.
"However, contrary to all odds, the child did make a full recovery."
Det Con Rhona Keenan said Romans, of Nottingham, had "failed to offer any reasonable explanation and take responsibility for his actions".
Judge Spencer commended the staff at the paediatric unit for their actions and care for the child.