Harry Procko's death prompts five-figure sum NHS settlement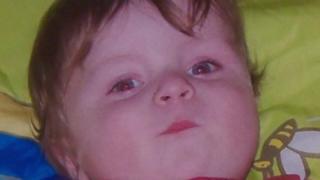 The family of a boy who died days after being discharged from hospital have been awarded a five-figure sum.
Harry Procko, four, from St Ann's, Nottingham, was diagnosed with gastroenteritis in June 2014 and later died from dehydration.
A coroner said his care at the Queen's Medical Centre was not responsible for his death but there were shortcomings.
The NHS Trust that runs the hospital said the settlement recognised it "could have done better by Harry".
Richard Clements, Harry's father, said the money was not important but some would be used to cover the expense of a memorial for his son.
He said he believed the settlement, reached between the trust and his solicitor, was an admission of "liability" by the hospital.
Harry, who had autism, was initially admitted to hospital on 20 June 2014 suffering with a stomach bug and was later taken home by his family after he became "agitated".
This was against a doctor's recommendations but as a compromise it was arranged for Harry to come back the following morning where his condition was reassessed as being better.
However, on 23 June, Harry collapsed at home and was taken by ambulance to the Queen's Medical Centre where he was pronounced dead.
In July, Heidi Connor, assistant coroner, recorded a narrative verdict but highlighted delays in transferring Harry from the emergency department to a ward and instances of poor record keeping, which the hospital accepted.
A spokesman from Nottingham University Hospitals NHS Trust said: "We have learnt from Harry's experience and made changes to better meet the needs of patients with autism.
"We reiterate our condolences. We fully appreciate that Harry's family's loss is beyond monetary measure."