Aqib Mazhar murder: Ninth arrest after Nottingham street stabbing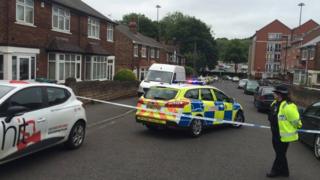 Police have arrested a ninth person on suspicion of murdering a 21-year-old man who was stabbed to death in Nottingham.
Four men have so far been charged with murdering Aqib Mazhar, who was stabbed in Russell Road, Forest Fields, on 1 June.
The latest man to be arrested is aged 24 and is in police custody while detectives question him.
Three of the men arrested have been bailed pending further enquiries.
The men charged with murder are Mohamud Alasow, 18, of Hamilton Road, Nottingham; Junaid Farrukh, 21, of Heathermead Close, Oakwood, Derby; Qamran Ahmed, 21, Staindale Drive, Aspley and Mohammed Quasim, 24, of Staindale Drive, Aspley.
They are due to appear at Nottingham Crown Court on 22 August.