Willows Medical Centre in Nottingham closed by inspectors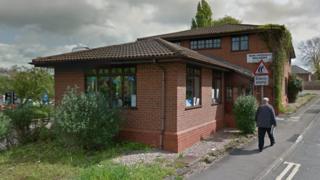 More than 4,000 patients at a Nottingham medical centre closed by health inspectors have been told to seek treatment elsewhere.
The Willows Medical Centre was shut until further notice on Friday by the Care Quality Commission (CQC) but no specific details were given for why.
Patients were advised to go to three other nearby surgeries with the closure expected for up to three months.
The centre was rated "good" in the most recent CQC report in April 2015.
Nottingham's North and East Clinical Commissioning Group said the CQC action was taken "to protect the safety and welfare of patients following concerns that had been raised".
Read more about Nottingham and Nottinghamshire
Helen Buchanan, director of the group, said they expected the surgery to remain shut for "one to three months".
"We are really sorry this has happened. We've tried to put in contingency as quickly as possible and there is capacity at the other practices that are really local to this practice.
"We are doing whatever we can to turn around the situation and hope the practice will open again as soon as possible but we do anticipate that it will be closed from one to three months."
A CQC spokesman said a full report on the inspection findings will be published "in due course".
Patients have been advised to contact either Peacock Healthcare in Carlton Hill, Park House Medical Centre on Burton Road or Netherfield Centre on Forester Street.
Back in February, St Mary's Medical Centre in Top Valley, Nottingham was also closed suddenly after a CQC inspection.